Mexborough and Swinton Times September 6 1919
Interesting Local Wedding
Captain Arthur Baker, M.C., and Miss Jenkinson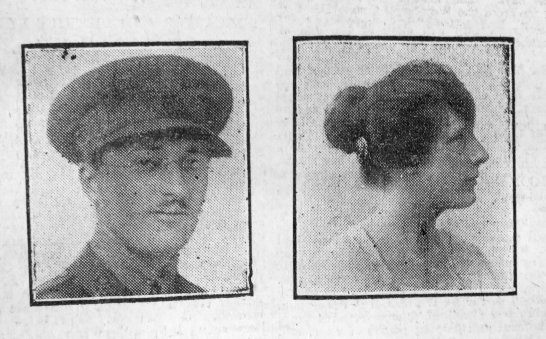 On Tuesday morning at St John's Church, Barnsley the Reverend Huggard (vicar) officiating, Captain Arthur Baker, M.C., late of the York and Lancaster Regiment, fourth son of the late Mr John Baker and Mrs Baker, Oakwood Grange Rotherham, and a member of the firm of John Baker and Co-Ltd, Rotherham and Kilnhurst, was married to Miss Annie ("Nancy") Jenkinson, daughter of Mr Mrs a Jenkinson, "Parkhurst" Park Road, Barnsley.
The function was of a quiet nature and was only attended by immediate relatives and friends. During the service Mr. and Mrs H.Lunn of  Huddersfield, played suitable music. The bride, who was given away by her father, wore a simple gown of white gorgette, and carried a sheaf of Madonna lilies.
Her maids were the Misses Doris and Edith Jenkinson (sisters), who wore ninon, the former in heliotrope, ,and the latter in criminal, and carried bouquets of sweet peas. Mr. Stanley Baker brother of the bridegroom), attended as best man, and Mr. H. Jenkinson as groomsman. The bridegroom's present to the bride was a diamond pendant, and to the bridesmaids each a silver chain purse. After the ceremony, the wedding breakfast was held at the Arcade Restaurant, Barnsley, and among others the Mayor of Barnsley, Ald. W. E. Raley, attended.
The honeymoon is being spent in North Wales, and the bride and bridegroom will reside at "Wellwood," Swinton.